Some 2020 IoT stats
A brief review on the Internet of Things over the last few years
By Niccolò Maria Menozzi
First we had computers, then smartphones and now we have an increasing number of devices connected to the Net. The Internet of Things is an across-the-board phenomenon that is ever more present in our homes as well as in various work-related contexts and in the production sector. What do the studies say about recent years?
If you don't know what we are talking about, perhaps you should first read What is IoT (Internet of Things)? Otherwise, let's have a look at some of the data going back to 2016, with particular reference to the industrial and manufacturing sector.
IoT data from 2016 to 2018
IoT relating to the manufacturing industry grew by 84% between 2016 and 2017.
With 183 billion dollars in 2017 alone, the manufacturing sector was first for investments in IoT (Verizon State of the Market: Internet of Things 2017).
According to certain IoT analytics forecasts for that same year, investment for Industry 4.0 in 2023 will be 310 billion dollars.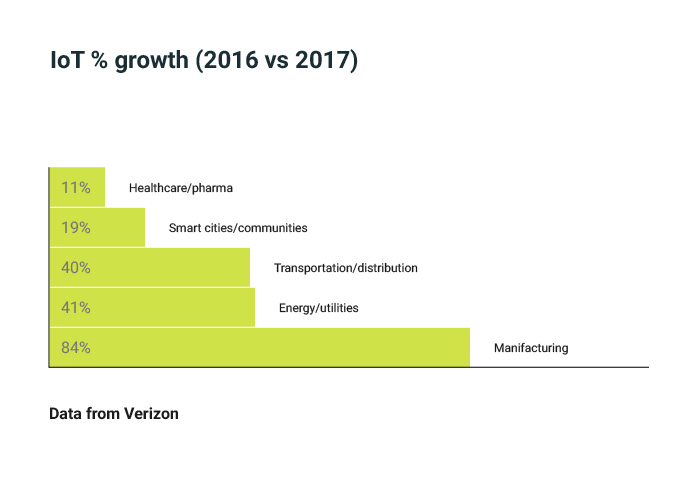 Data from a Gartner study in 2018 showed that 80% of companies which had adopted IoT were reaching "better than expected results" and only 29% could not give precise information regarding their payback period.
Nick Jones, vice president of Gartner, also pointed to the importance of IT managers in company projects.
«What we found is that CIO involvement in IoT is critical – projects are more likely to succeed if they are involved.»
Nick Jones, vice president of Gartner
A study by Forbes in 2018 (700 managers involved) showed that 51% of those interviewed strongly agreed that IoT had helped them open new business channels.
As well as other advantages that IoT can offer, 29% claimed that the effort related to these technological updates had already led to the creation of new products and services.
IoT data from 2019 to 2020
The positive growth trend which could already be seen from 2016 to 2018 has been confirmed by more recent studies which show that companies have favourable attitudes to IoT.
According to a study published in the summer of 2019 by the International Data Corporation (IDC), 85% of the 5421 companies interviewed, from 29 countries, allocated funds for investment in IoT.
Contrary to popular belief, it is the IT departments that lead these important projects and not the management who are busy on various fronts and don't always have the required technical know-how. This creates a new balance, also in time and budget management.
Coming up to the present, in 2020, 91% of the German industrial and manufacturing sector invested in "digital factories" which include IoT solutions and companies predict that these and other digital technologies will improve efficiency by 12% (Digital Factories 2020 by PwC).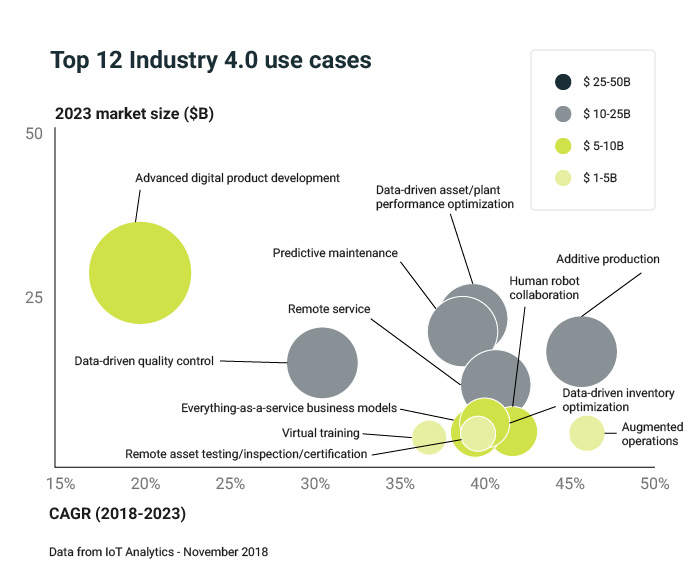 IoT for Big Data, monitoring and forecasting
Starting in 2018 findings showed the importance of digital interfaces for data and online machine status consulting in the industrial manufacturing sector.
According to Forbes 52% of managers reported having visual supports for real time product and company asset monitoring. 48% of these were used through a smartphone, 47% from desktop, in particular for predictive maintenance (51%) and productivity increases (49%).
Dreamonkey has learned that those who manage production plants or logistics and storage infrastructures need web apps or mobile apps that can give detailed information on what is going on to give data scientists suitable support tools.
in 2017 Gartner predicted that the demand for data science specialists would grow far beyond the available market (due in no insignificant part to IoT). They even considered that by 2020 the lack of said specialists would keep ¾ of companies from maximising their IoT objectives (Leading the IoT, 2017).
Whether these predictions come true or not in the estimated times, one conclusion which can be drawn is that companies should make a move now, to avoid launching innovation plans that are obsolete compared to the competition, especially in view of the issues that have arisen with Covid-19. These issues have shown that companies with a good level of digitalisation and technological know-how have adapted to the crisis better.
The future is efficiency 2.0
The change has been in motion for years now. As in many other sectors, our production infrastructure is increasingly interconnected and the border between the real world and the Net is ever more blurred.
In the past, competition was based mainly on the extension of the plants and their mechanical quality, but today you also need to optimise machine performance, working with digital tools that allow access to data and forecasts with methods that were unthinkable even a short while ago.
With all of these opportunities for application, companies must choose how to best take advantage of IoT, by identifying the technologies and applications that best meet their well-defined strategic goals. Is it a question of integrating a new IoT infrastructure from scratch or improving the quality of an existing one?
Every business has specific needs which lead to considerations on costs and benefits for the implementation of new technologies. If your company operates in the production, logistics or industrial automation sectors, you can evaluate the implementation of new methods of data collection and analysis to optimise company procedures and save (Do you know that there are funds available for these kinds of investments?) Contact us, we'll be happy to chat with you.