Dreamonkey: 2021 results and 2022 company goals
How we got through the past year and where we are headed
By Niccolò Maria Menozzi
For Dreamonkey 2021 was a year of consolidation and expansion. In this article we will go over the main phases of the year that has just passed and the prospects for 2022.
2020 was a challenging year, which started with the appearance of Covid-19. with everything that came with it, as was the case with many other company situations from an economic and organizational point of view (you can read our review of 2020 results and 2021 company objectives). Nevertheless we were satisfied with our achievements and we are now going to lay out our second company report, going over the most important points for this year and the goals for the future.
New Italian and foreign clients
2021 saw the arrival of 6 new Italian clients and new relations with important companies with whom we had long wished to work on technological innovation projects in industrial IoT. Among these, one client specifically made up 2% of the whole 2021 Dreamonkey turnover.
Our extensive network is growing, with a new client in Canada which joins our North American client base which started in 2020. Also in this case we were chosen to deal with complex web apps, in line with our market penetration goals.
Despite the growing number of companies asking for our support, the year's turnover was mostly based on the consolidation of web based apps already under development. By switching to a continuous delivery project approach we can maintain our contribution to clients who wish to enhance their web services, guaranteeing more financial consistency for Dreamonkey.
New hirings
Dreamonkey sets no limits. Our team needs to expand to keep up with the increasing workflow and, to stay competitive on the international market, we have extended our recruitment beyond our national borders.
So we welcomed Yusuf and Calson, two young developers who have proven they are up to the task of meeting our needs, both in terms of skills and approach.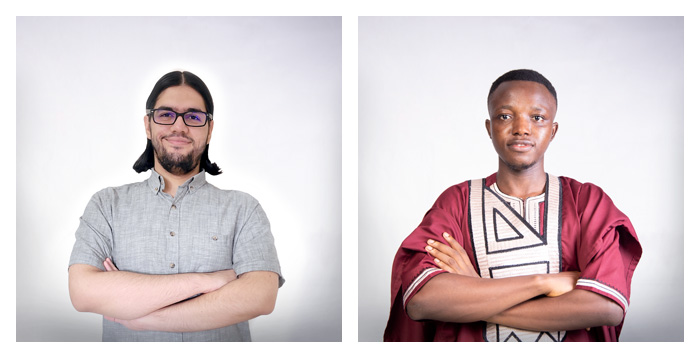 Partnerships
Since January 2021 Dreamonkey has officially become a member of Unindustria, following the desire for new collaborations to share our services. However, a year later, the opportunity for concrete opportunities with other Italian companies were fewer than expected.
During the year we were also contacted by some Italian organizations for various types of partnerships. We tried to make a contribution to the field of specialized training by collaborating with a company in that sector (in the IoT and UX/UI design fields) and to activate new services for industrial IOT and cyber security with other companies and business organizations.
For various reasons, some of these projects did not take off or are not yet operative, but we will make sure we learn from the experience for future opportunities, adopting the "fail fast" approach.
In line with our company values for constant improvement this summer we welcomed to our office two young interns, in collaboration with Reggio Emilia high schools. If you understand Italian and are interested you can read about their experience in the development and design sectors.
In November we collaborated again with the University of Modena and Reggio Emilia and our partner, Paolo Caleffi, taught some web development lessons for the students of the IT engineering faculty of Modena.
Improvement of online presence
With 12 new articles (without counting those of our interns) on our blog, we managed to regularly maintain the publication of this monthly content. Furthermore, we are continuing with the translation into English of the articles from previous years, to add value to the content that deserves to be accessible to a wider public. Over the year we translated 20 articles of new and old content.
What's more, we launched our newsletter, which you can sign up for.
The increase in bilingual content and attention to particular keywords for SEO contributed to an increase in traffic on our company website. Our affiliation to the Quasar community was also certainly decisive. We were happy to notice that the most important projects for company finances were acquired thanks to these communication channels.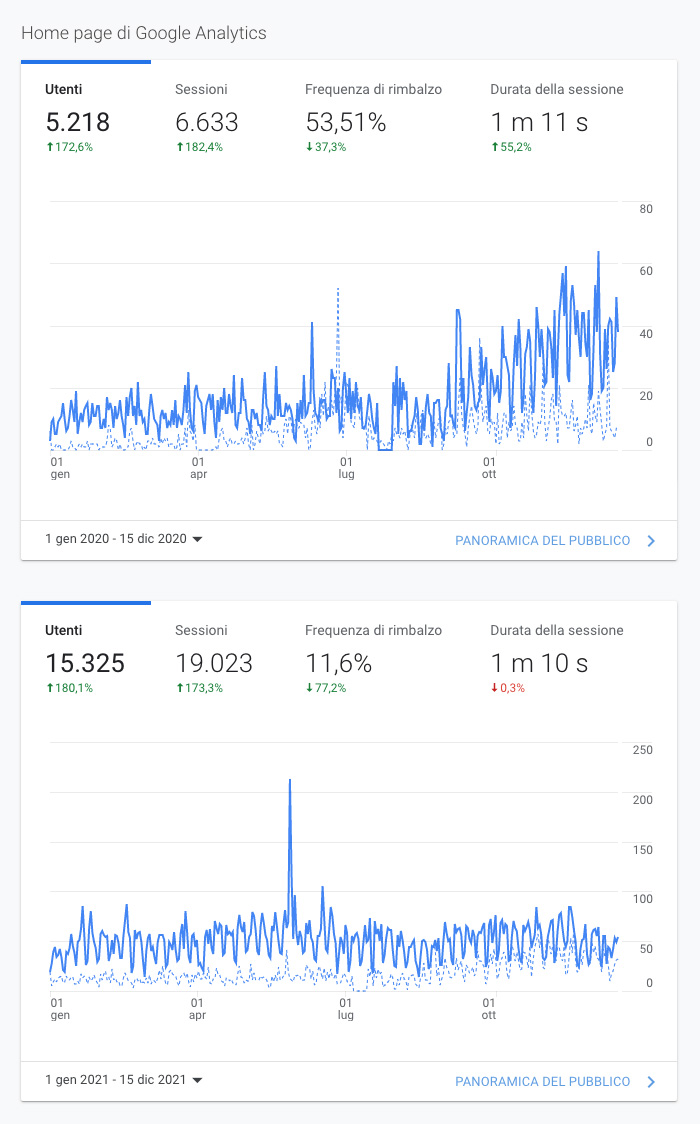 Quasar Sponsorship and other activities
Our collaboration as a Platinum Sponsor of the Quasar open source framework started in 2019 and is still active. We dealt with the re-branding of the framework, presenting the new official Quasar logo and other updates in May.
The respect earned with the Quasar management with this project opened up the possibility for us to give a greater strategic contribution. Indeed I, Niccolò Menozzi, became a part of the Core Team (which already included Paolo Caleffi, our partner and full stack developer) as brand and communication manager.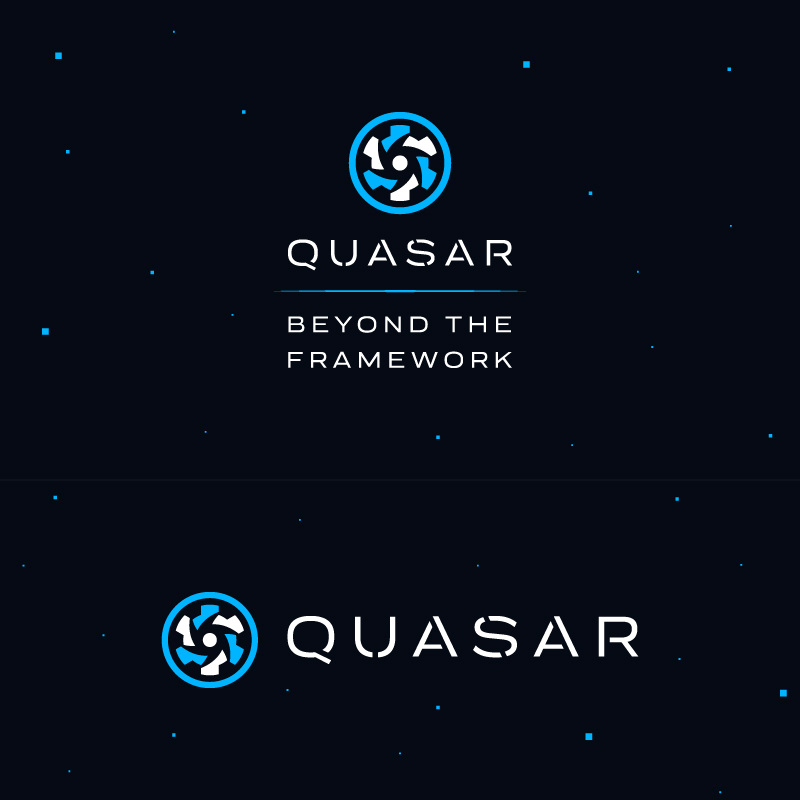 After the successful 2020 Quasar Survey, during the summer we activated a new smaller survey, dedicated to the coming updates we wish to propose to the community. We collected feedback from over 700 developers worldwide.
As per our objectives, our contribution to Quasar continued during the Autumn with the implementation of a new front end for the official quasar.dev site, aimed at strengthening the brand and improving access to technical resources. Although the release of the update was planned for the end of the summer of 2021, following some delays, we decided to postpone the launch to the start of 2022.
This year we also had the opportunity to bring a little joy to someone for the holidays. For Easter we gifted 30 chocolate eggs to the children's hospital of Reggio Emilia.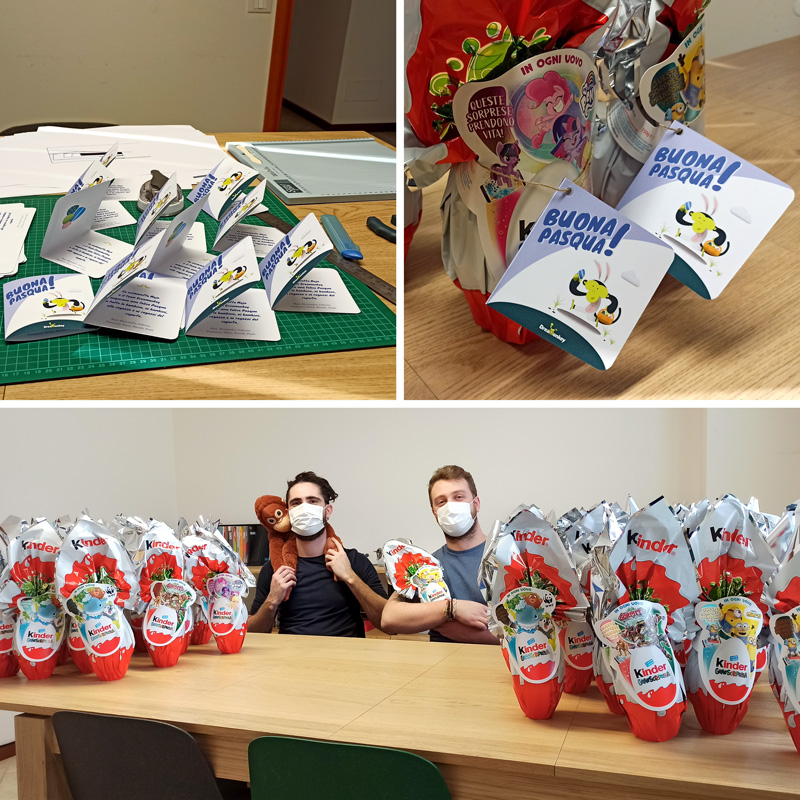 Our cherry on top was our new relax area, starting with our ping-pong table!
Turnover
The Dreamonkey turnover grew by 70% compared to the previous year (2020), overtaking even the forecast we had made at the end of 2019 for 2020 (which was then modified due to COVID-19).
Dreamonkey Srl also closed 2021 positively, establishing itself as a 100% solid company. All the signs indicate that we can expect significant growth in the coming years.
The objectives for 2022
Last year we set five main objectives and we are very pleased to announce we have reached them all (You can read about them in this report). As you read this article you will have realized that we have done even more!
2022 brings new challenges with it, some new and others as a consolidation of ongoing projects.
Increase company turnover;
Hire new technical employees;
Consolidate and expand our foreign client portfolio;
Activate an official enterprise support service for companies that adopt Quasar;
Create stronger ties with universities;
Acquire certain AWS certifications.
If you would like to know more here are 6 questions to ask yourself before having a web app developed or contact us for a free consult.