Customized or standard software
What to do when you want to change your company's old software
By Niccolò Maria Menozzi
After years of helping you manage your office work, do you now find your company software is slow and confusing and your colleagues and employees no longer find it as effective as they used to? Then the time has come to update and here is where to start.
Admin management software, order management software, stock management software, CMMS, etc. Whatever your needs may be, the professional world is full of software that helps us get results every day. We have been working in the sector since 2016 and, in particular, we develop these tools as cutting edge Single Page Application and MVP.
You may be surprised to know that many companies rely daily on software that was developed more than ten years ago or is not up to date with the latest technological innovations. It is slow, outdated and has little to do with the more recent versions that have made these tools increasingly easier to use and more intuitive for users. Actually, you may be reading this article because you, instead, have realized that it's time to start a change in your company, but before making important decisions you want to have an overview of the possibilities.
Where to start changing software
Changing software does have its downsides: verifying compatibility with other company systems, making sure it has all the functions you need, being sure that it performs well and the supplier understands what you want. We know that all of this is not obvious and that often in many companies we have seen software that does not help users. However, it is worth the effort because a well designed tool helps save time, which means less stress, more money saved and more productive employees.
In general there are two approaches: using standard software or having customized software designed by a software house. Both approaches have pros and cons, so let's have a look together.
Standard software
Standard software almost always follows the "as a service" formula, meaning that it is offered as a service by a large, at times multinational, company, and tries to meet the needs of tens or hundreds of customer companies.
Some advantages of standard software:
No development costs: the software is already ready and does not need to be developed from scratch.
Many features: it will probably already include what you need.
More stability: if the supplier is a large company it will be more solid and so it should not disappear and can offer continued customer support.
Some disadvantages of standard software:
Too many features: the software may offer many unnecessary functions which can slow it down, or hinder and confuse your users.
Non customizable: aside from certain basic characteristics, it is not always possible to make it tailor made for your use.
Non expandable: your future needs may not be kept into account by the supplier and you may find yourself with limited software.
Vendor lock-in: it is often developed with proprietary technologies that may not allow you to pass the management on to a new supplier…
Recurring fees: indeed, you don't pay for the development, but the user licenses have a recurring cost that will always be there.
Customized software
Customized software is created by a software house upon request for a single customer and is tailored in every detail to solve their personal problems and adapt to their use.
Some advantages of customized software:
Tailor-made features: no use going for the overkill, travel light with the carefully designed tools you really need.
Customizable: the term says it all, leaving more freedom to decide what features to add what aspect to give it.
Expandable: if the future presents new challenges, it will be possible to integrate new features according to the needs.
No vendor lock-in: when it is developed with open source technology, you can maintain it and assign the maintenance to a new supplier that knows the technology.
No recurring fees: you only pay for what you asked for and the minimal required maintenance, without recurring licenses.
Some disadvantages of customized software:
Development costs: rather than a recurring fee over time, the development costs are concentrated in a more limited period (even though you can always negotiate a payment scheme).
Only necessary features: it's up to you whether it's a pro or con, but it's a matter of fact that the development costs usually lead you to concentrate exclusively on the features that are really necessary, excluding the typical extras of the standard solution.
Less stability: if the supplier is a smaller-sized software house you run the risk of it disappearing from the market, but if it is developed with open-source technology you can entrust the software to another company.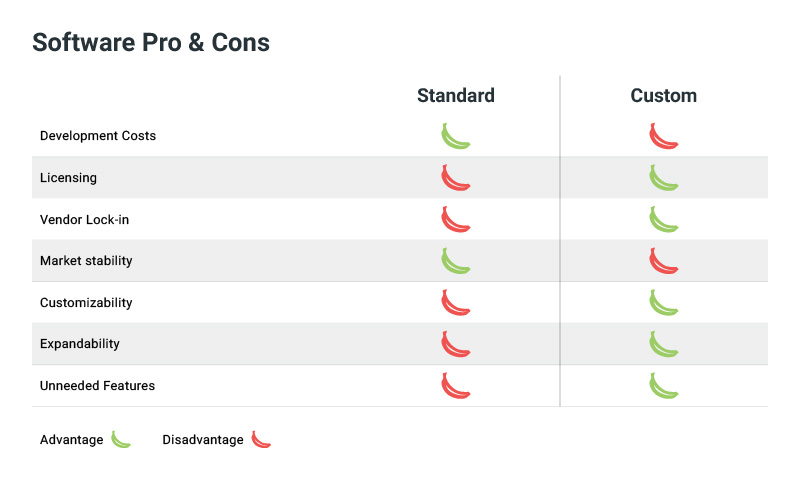 What type of software to choose
We often think that the price of standard software is less than a customized solution, but is that really the case? Substantial as they may be, you can amortize the development costs in the long term, but you can't stop paying for a license. In the medium to long term, a customized solution could help save money, or the two solutions could have the same economic impact.
Something similar can be said regarding time to market. Customized software is developed from scratch, but standard software, although it may be ready, requires other configuration and company network and/or previous solution adaptation procedures. In both cases the work may take months or even more, based on the complexity of the software and the size of the company that adopts it. On paper, standard solutions may save time, but, in fact, you have to be aware of the actual size of the project.
It's not an easy choice, there are many factors to consider, but let's try and summarize the key points that can help guide your future decisions.
If you want a solution in a relatively short time, with the risk of finding a product that doesn't perfectly meet your expectations, but offers the guarantee of a large company and you are not worried about being too tied down, perhaps you need standard software.
If your customized software is too old or the standard software you have tried no longer fits your needs (or has not really worked well) and you feel it is really worth having something tailor-made for your needs that can evolve based on your wishes, then modernized customized software is the right choice for you.
Do you have doubts? It's understandable. We are aware, as you are, that there are many other aspects that can influence the decision. Don't worry, we can help you evaluate these factors and understand what the right choice for you is. Contact us to fix a consultation or ask for an estimate. Meanwhile, you could read 6 questions to ask yourself before having a web app developed which can guide you into the modern software world.